Employee engagement is a measure of how strongly employees feel connected to their work and their employer. It can lower turnover, greater employee loyalty as well as increase productivity. This is the reason why it is important in every organisation. Higher engagement means better performance across the board. However, how can you improve employee engagement? Don't worry, here will be telling you the proven methods to improve employee engagement.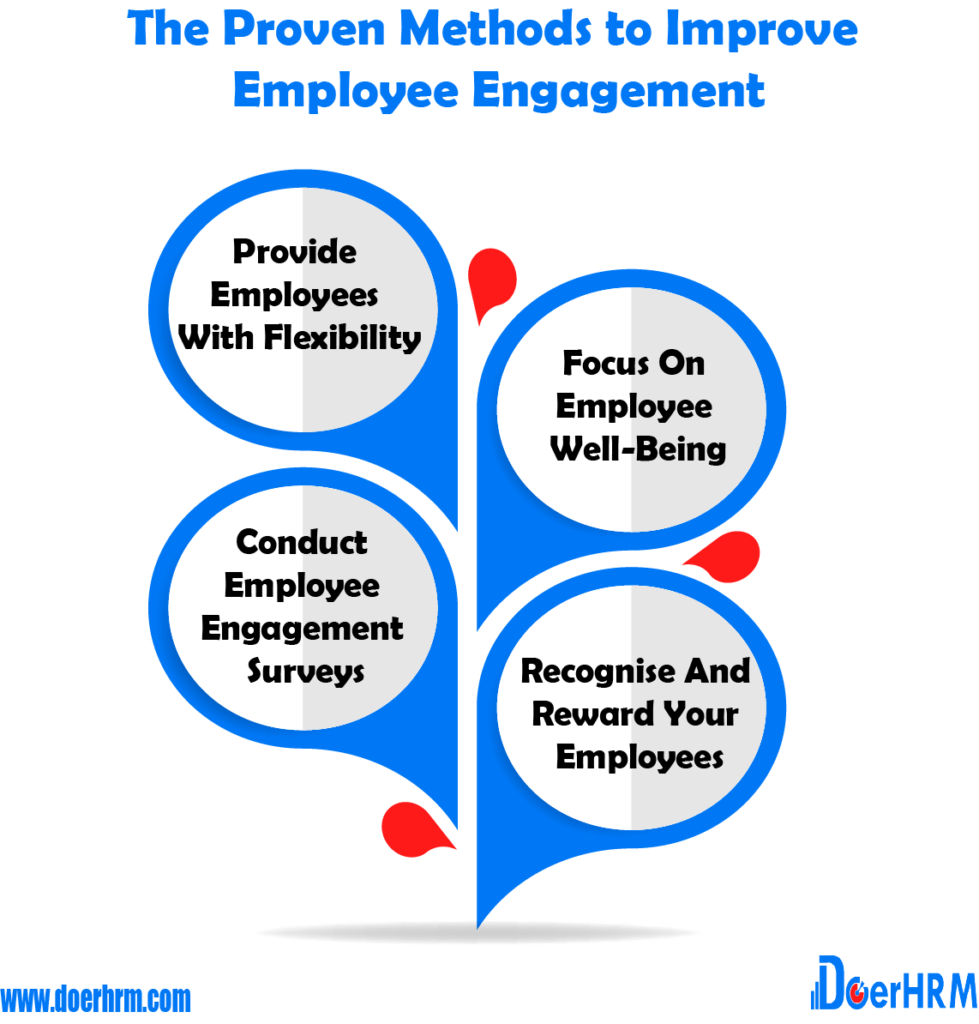 1. Provide Employees With Flexibility
Providing your employees with flexibility is almost a guaranteed way to improve employee engagement. For example, you may give your employees adjust their work schedules or location freely to better suit their needs. Most of the time, the employers thought that employees can't get their work done without their managers' watchful eyes. In fact, you should try to give the flexible hours to your employees instead of the rigid eight to five timings. You might be surprised as this might let your employees tend to be more productive and happier at the workplace. When your employees are given flexibility, the stress level will be reduced as they can find job satisfaction and a greater work life balance. Work life balance through flexibility in the workplace can ensure personal growth of your employees. In addition, providing your employees with flexibility can also build trust and commitment. This will be the reason why it can help you to keep your employees engaged.
2. Focus On Employee Well-Being
As an employer, you should focus on your employee well-being as there is a clear link between employee well-being and employee engagement. Both physical and mental health of your employees should be prioritised to improve employee engagement. This is because individuals get easier to engage with their work if the company bends over backwards to enhance employee overall well-being. For example, you may stock some healthy snacks, tea or coffee in the pantry room which can fuel your employees while they are busy. Besides, you may also provide free or subsidised gym memberships, extra vacation days, access to wellness programs and others to ensure the physical health of your employees. Apart from making an effort to enhance the physical health of your employees, you can allow time for personal projects or access to counselling services for your employees to enhance their mental health as well. To sum up, a company-wide wellness initiative is a good way to improve employee engagement. 
3. Conduct Employee Engagement Surveys
One of the proven methods to improve employee engagement is to conduct employee engagement surveys frequently. It can be conducted using different kinds of techniques. For example, you can conduct the survey using traditional paper surveys or even online surveys which is really convenient. Employee engagement surveys can let your employees feel valued as well as helping you to know the area that your company excels and where it should improve. Employee Engagement can also help to give each of your employees the opportunity to voice their real opinions without fear of backlash as the employee engagement surveys are fully anonymous. Employee feedback is important in order to engage your workforce successfully. Other than that, employee engagement surveys can also help you to improve employee safety, uncover their weakness, increase employee satisfaction and others. All these benefits would have encouraged you to consider making employee engagement surveys a standard practice. 
4. Recognise And Reward Your Employees
To fully engage your employee in your company, truthful appreciation from peers, managers and leaders is indispensable for your employee. Recognition can also help your employee to enjoy their work and feel motivated to perform at their best in the workplace. Recognition and reward may make your employees more likely to stay as it will let other employees feel inspired to work hard for the same recognition which boosts workplace morale. Nevertheless, what should you start from? Here are some suggestions. You may start with helping your employees to celebrate their birthdays, work anniversaries, achievements but do remember, never ever celebrate things that only benefit a few while others struggle. Besides, you may also celebrate each success at the highest level it applies. Giving individual employees or teams involved the specific credit will be a great way too. Last but not least, don't forget to make loud and clear when the feedback inspired the action. Yet, rewards and appreciation are not one-size-fits-all. It is important for you to understand how your employees prefer to receive recognition. This will surely help you to engage your employees.
Above are the proven methods that can help you to improve employee engagement. As Irene Becker said, "Employee engagement is a catalyst for success and sustainability that cannot be ignored." Thus, let's start now!