Hi Managers, do your employees have signs of low motivation?
First, let's talk about the basics. A key performance indicator (KPI) is a way to measure how well a strategic goal is being met over time. KPIs are used by business leaders and top executives to measure how well their efforts are working and make better decisions.
KPI stands for "key performance indicator." This is a way to measure how well a goal is being met over time. KPIs give teams goals to work toward, checkpoints to see how far they've come, and insights that help everyone in the organisation make better decisions.
Key performance indicators help every part of a business move forward on a strategic level, from finance and HR to marketing and sales. In business, key performance indicators can be broad or narrowed down to a certain department or person.
High-level KPIs usually look at how your business is doing as a whole. Low-level KPIs are those that focus on processes that are unique to departments, teams, or individuals.
Learn about Key Performance Indicators (KPIs) for Employees: Click here
How do you choose a good KPI?
A good KPI is based in reality, is clear, and is easy to measure. Here are some things to think about when setting up good KPIs.
KPIs should be in line with the business's overall goals and strategy. Your KPIs should be based on the business strategy as a whole. Your KPI helps you reach your business's overall goal because new leads mean more money could be made.
KPIs should be easy to work with. Once you've set your KPI, you need to plan out the steps you'll take to reach it and the metrics you'll measure along the way. What's the point of a KPI if you can't meet it? Taking steps that you can do will help you reach your KPIs. It's also important to remember that KPIs shouldn't lead to more questions; instead, they should get people to take action.
KPIs should be based on facts. It's a good idea to start out small. Big, lofty KPIs might look good on paper, but they won't help you or your team if they're impossible from the start.
KPIs should be able to be tracked. Ask yourself, "What are you trying to do when you set KPIs?" What do you want the end result to be? How long will it take? Don't forget to add: "How will I measure my KPIs?" Most of the time, an analytics tool is a great way to keep track of how you're doing with your KPIs. So, you can make a metric and see your progress in data visualisation quickly and easily.
How to Set Key Performance Indicators for Employees: Click here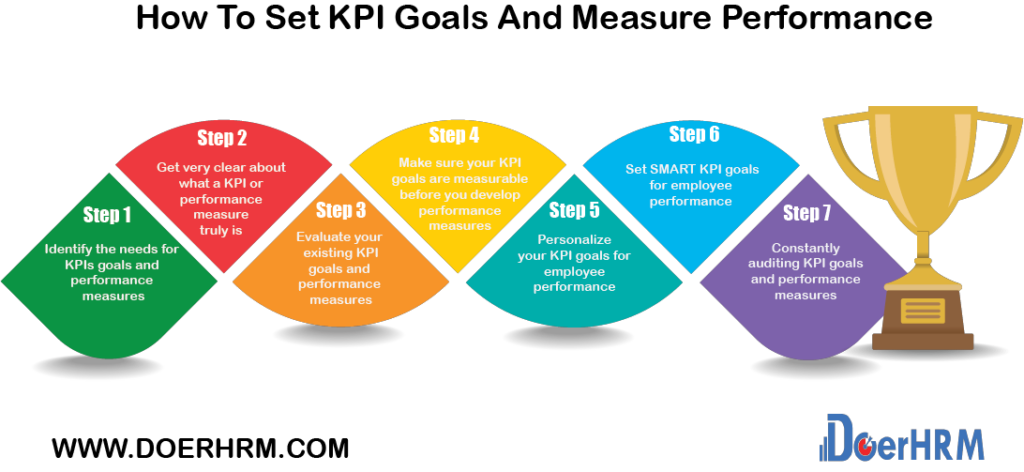 What is the difference between KPIs and Metrics?
People often get these two words mixed up. Even though KPIs and metrics are related, they are not the same thing. What's the difference between a key performance indicator and a metric? Here's a quick explanation:
KPIs are the most important goals you should keep an eye on if you want to have the biggest impact on your business's strategic outcomes. KPIs help your team focus on what's important and help your strategy work. KPIs show how well you are doing in relation to your strategic goals. And by goals, we mean specific business results, like the amount of money we want to make in a quarter or the number of new customers we want to get each month.
Metrics are a way to measure how well everyday business activities that help you reach your KPIs are working. Metrics help KPIs because they show the tactical steps or processes that need to be taken to reach the KPIs. Metrics keep track of and measure success against specific goals, such as the number of white paper downloads or store visits that happen each month. Even though they have an effect on your results, they are not the most important measures.
KPI VS Key Results VS Metrics: The Differences and Benefits of Each Approach: Click here
KPIs are an important way to make sure that your teams are helping the organisation reach its goals as a whole. Here are some of the most important reasons why you need KPIs.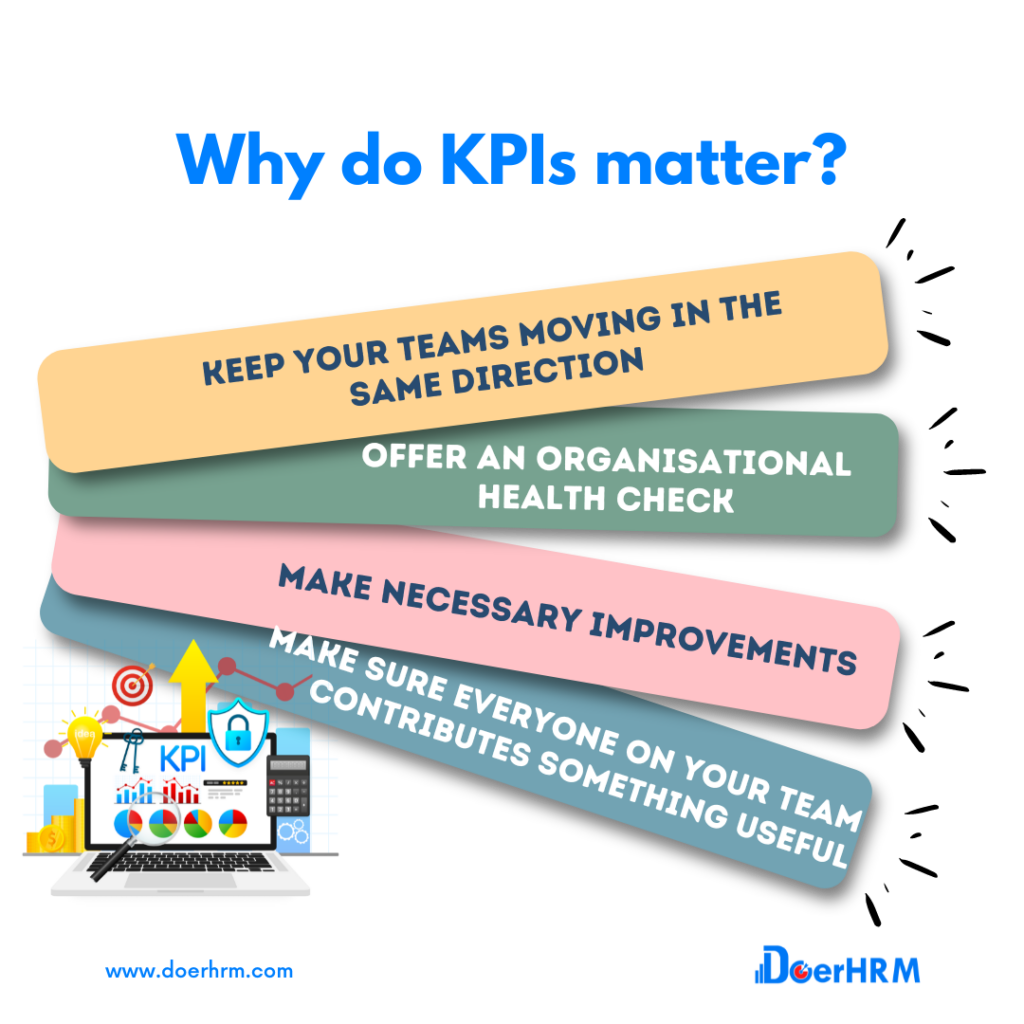 Keep your teams moving in the same direction: KPIs can be used to measure the success of a project or the performance of an employee.
Offer an organisational health check: Key performance indicators, such as risk factors and financial indicators, give you a realistic look at the health of your organisation.
Make necessary improvements: Key performance indicators (KPIs) help you see your successes and failures clearly, so you can do more of what works and less of what doesn't.
Make sure everyone on your team contributes something useful: Key performance indicators can help employees track their progress and managers move things along.
Click to see how DoerHRM's KPI + Strategy Execution Software helps to improve efficiency without adding costs and enhance profitability in your business.
Now that we have access to so much information, it might be tempting to quantify everything. To get the most out of your key performance indicators, however, you should focus on measuring the things that really matter for your business. 
More importantly, equip yourself with the resources you need to understand the rationale behind your key performance indicators. There are 10 phases to creating effective key performance indicators (KPIs), and they are outlined here.
Set goals for your KPIs. Find out who will be using the KPIs and what they want to accomplish by doing so. You may then use this information to create KPIs that have a direct bearing on their objectives and methods.
Connect them to strategic objectives. Your Key Performance Indicators should be directly related to your company goals. Whether they pertain to human resources or marketing, KPIs should always be relevant to the larger corporate objectives.
Develop SMART KPIs. To be most successful, key performance indicators should be SMART (specific, measurable, attainable, realistic, and time-bound).
Keep them simple. Your key performance indicators (KPIs) should be communicated clearly and understood by all members of your team. One's ability to make choices that really move the needle toward success is greatly enhanced by knowledge of one's progress relative to a well-defined objective.
Include both lagging and leading KPIs. Sales over the last 30 days are a lagging indication since it helps you comprehend outcomes over time. Using data, leading indicators enable you to create informed predictions about the future so that you can optimise results.
Avoid having too many KPIs. You most certainly have access to massive amounts of data as well as a number of tools that enable you to measure everything and everything. Avoid KPI overload by concentrating on just the most important metrics.
Organize your data warehouse. Accurately monitoring KPIs requires precise data. Bring data from many sources within your organisation together to receive full, accurate, and up-to-date information.
Understand the "why" behind your KPI. Choose an analytics or business intelligence solution that enables you to generate interactive visualisations and dashboards based on your KPIs. This enables you to study and analyse the data behind your KPIs immediately inside the dashboard.
Maintain vigilance and take action. Modern analytics and business intelligence technologies make it simple to build up data-driven, real-time alerts based on your KPIs. These notifications enable you to react swiftly to developments in your company. The finest technologies take it a step further by allowing your critical apps to interact with your analytics and trigger automatic, event-driven actions based on KPI changes.
Be prepared to iterate. Your key performance indicators may need to be revised as your organisation and clients evolve. Perhaps some are no longer relevant, or you need to make changes depending on performance. Meet on a frequent basis to evaluate them, examine performance to determine if modifications are needed, and publicise any changes you make so that teams are constantly up to speed.
How to Set KPI Goals and Measure Performance for Employees: Click here
How to use KPIs with software for dashboards and reports?
You might be wondering, "Why do I need KPI software when I can just use a spreadsheet?" And while that is true, spreadsheets do have some problems. Let's look at the different ways we can write dashboards or reports based on KPIs.
If you're new to KPI reporting, spreadsheets are a great place to start. Spreadsheets have only a few ways to show data and setting up your report takes a lot of time and work. Spreadsheets also need to be updated regularly by hand in order to keep your data up to date. The good thing about spreadsheets is that anyone can use them.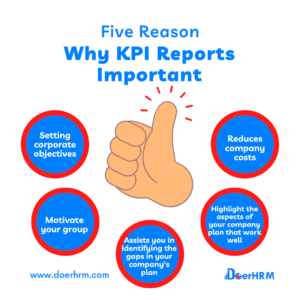 KPI dashboards and reporting tools automate the process of getting data from your data source, so you don't have to do much by hand right away. Dashboards and reporting tools often have advanced and customizable data visualisation features that give users a wide range of visualisation options. Lastly, dashboards and reporting tools take some time to set up, but you and your team will save a lot of time in the long run because everything is automated.
On top of dashboards and reporting tools, BI and analytics software adds an extra layer of data capabilities. This often makes it possible for advanced analysis that meets the needs of sophisticated data and reporting teams.
With DoerHRM KPI Performance Management, you can make data visualisations of your KPIs in real time. When you track your KPIs, you probably use different data sources, like Google Analytics, to get the information you need. With an analytics tool, you can put all of this data on a dashboard with just a few clicks. You can also turn it into beautiful data visualizations. From there, you can divide your data into groups to look at channel types or countries, add dimensions, combine metrics, and send your team reports that they can change and that are full of useful information.
Click to see how DoerHRM's KPI + Strategy Execution Software helps to generate an insightful weekly report, which will only take 5 minutes!
Why would you want to use KPI software?
KPIs help you and your organisation reach your goals by giving you a road map. And getting closer to your goals depends on how focused and consistent you are in getting things done. When you use a dashboard and reporting tool to keep track of your KPIs, you get many benefits, such as:
KPIs engage employees. We've already said this, but it's important to say again: KPIs bring everyone together to work toward a common goal.
Employee engagement is a problem that many businesses have, and it can have a direct effect on your bottom line. KPIs can help, though. KPIs, whether they are individual or for the whole organization, are a good way to measure performance, which has a direct link to how engaged employees are.
In fact, companies with engaged employees have more satisfied customers, are more productive, and make more money. On the other hand, employees who aren't interested in their jobs say that management and individual contributors don't talk enough about strategy. KPIs help fix this issue.
KPIs link your mission and your way of life. Your KPIs should be linked to the mission of your organisation. "Making money" is not a mission, and employees won't feel a deeper connection to it either.
Your goal should be to get people to come to work every day with a new sense of excitement. There should be a clear link between your mission and your key performance indicators (KPIs) so that your employees can see how their work helps you reach both.
Get rid of any confusion by making sure your KPIs lead to your end goal and that your employees know how and why they're working toward that.
KPIs make everyone responsible for how well they do. Individual performance management frameworks have traditionally been about setting goals, measuring performance, and managing activities related to those goals. So, why not use KPIs for performance management as well?
Performance KPIs will help employees figure out how their daily tasks, which are arguably the most important part of their jobs, contribute to the success of the organization's bigger goals. KPIs make sure that everyone is going in the same direction, which makes everyone a happy part of your success.
Click to see how DoerHRM's KPI + Strategy Execution Software helps to build winning teams that know where they're going, and how they're doing it. Ultimately, helping the teams to stay on track and become results-focus.
How to build
winning teams with KPI?
Hey, I'm Shone Fone Ng. I'm determined to make a business grow. My only question is, will it be yours?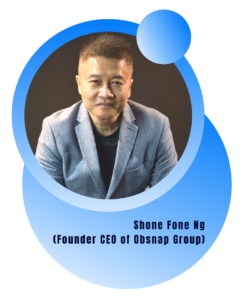 About Shone Fone
Shone Fone is a Serial Entrepreneur for 10 SMEs since 1997, businesses ranging from equipment supply, manufacturing, equipment maintenance and ISO 17025 calibration service, HRM software development and training. He also an award winning entrepreneur of Asia Pacific Top Excellence Brand – Book of The TOP Recognition.
Hi Managers, do your employees have
signs of low motivation?
Through a 30 min FREE consultation,
know step-by-step guide to learn
Have a 1-on-1 free consultation
with our
DoerHRM KPI Expert
How to build
winning teams with KPI?
Hey, I'm Shone Fone Ng. I'm determined to make a business grow. My only question is, will it be yours?