Managers must devote time and effort to coaching their team. Studies have shown that when managers become coaches, there is a better commitment, higher productivity, and improved customer service. Besides, employees are more confident in overcoming difficulties and achieving goals.
The truth is that the benefits of coaching for the manager are as numerous as for employees. It is a win-win situation for everyone in the workplace.
If you want to be a good manager and leader, it is imperative to become a terrific coach.
It is impossible to be an excellent manager without being a fantastic coach. The road to success in this highly competitive business environment is to allow business teams to learn from a kindhearted leader.
Coaching is the ability and expertise of supporting someone improves their skills to reach their full potential.
Coaching can be directive or non-directive. Some examples of direct coaching are teaching, advising, and feedback. On the other hand, non-direct coaching involves asking questions and listening.
Managers that take a non-directive approach allow their teams to solve their problems by encouraging them with profound discussions and listening.
People capable of solving problems are more engaging, and they are more likely to implement the fixes. Besides, this experience helps them boost their self-confidence.
The primary purpose of excellent managers and coaches is to help employees minimize the distractions to encourage the solving-problem mentality.
A terrific coach must know how and when to ask the right question at the precise moment, when to offer feedback, when to encourage, and how to grow responsibility.
Benefits Of Coaching A-Team
Managers can have a positive impact on their team careers. There are many benefits to mentor a team. Some of the main benefits are: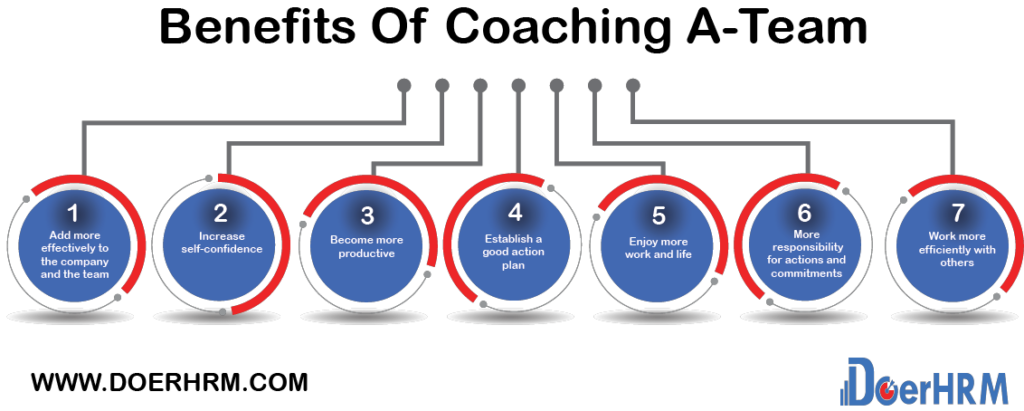 You have to keep in mind that excellent coaches can define their team career goals. With the help of a coach, team members can set goals and then work towards them. Doing this increases the chances that companies expand and grow.
When employees have good coaching, they are capable of building skills and improving their professional behavior.
How Can Managers Become Excellent Coaches?
When management teams become coaches, they are likely to be engaged and inspired to achieve the company goals. Managers that become coaches have many benefits to them, such as: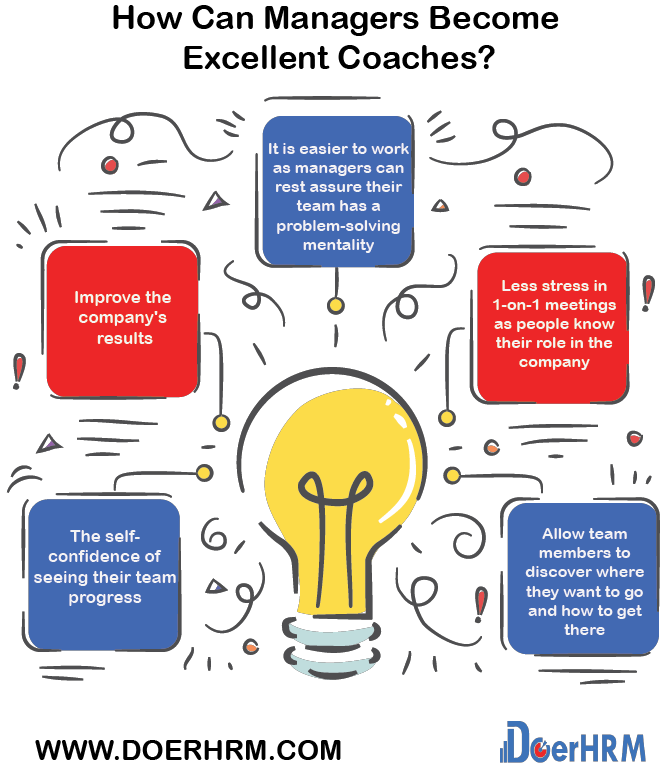 Research has proved that a strong coaching culture correlated with a high performing organization.
Every aspect of the company benefits from a coaching approach, like employee commitment, customer satisfaction, and internal mobility.
Here are four ways for managers to become excellent coaches.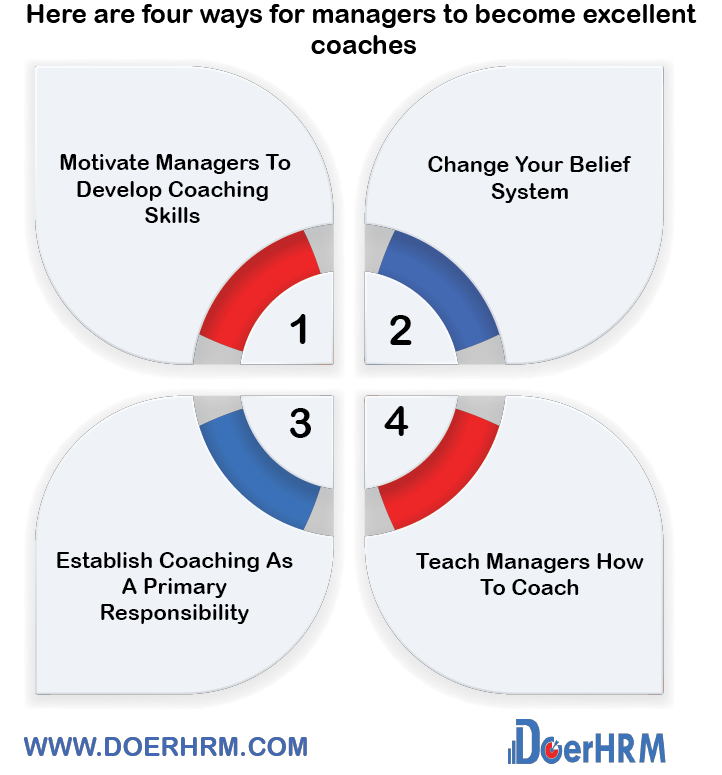 1. Motivate Managers To Develop Coaching Skills
It is essential to understand that you can't force coaching skills on managers who don't see the benefits.
Managers must have a strong sense of commitment to their organization to develop their coaching abilities.
Management teams should remember that the most reliable leaders and successful executives have one thing in common: they are all terrific coaches.
Once the managers comprehend that they can increase the company's profitability and achieve more substantial results, they will want to learn how to mentor their employees.
The key is to embrace coaching as a powerful way to a mutually beneficial result.
2. Change Your Belief System
Suppose you want to become a good coach, it is vital to change your belief system. An excellent coach knows that a manager's job doesn't have all of the answers. It is crucial to give employees the chance to develop a problem-solving mentality.
The worst thing for a manager is that their team becomes dependent and never reaches their full potential.
A manager can't become a terrific coach if he doesn't believe in his team.
Even though it might be easier to give advice, coaching requires more time and patience. The manager should consider mentorship as an investment in people that have a higher return.
People who can learn and develop improve their performance and organizations are more successful.
3. Establish Coaching As A Primary Responsibility
An organization must establish some firm expectations. Coaching should be considered a primary responsibility for each management team.
If a company doesn't set up firm expectations around mentorship, it is challenging for managers to get the desired results.
Coaching is a vital factor in an organization's environment and must be a part of every manager's job description.
Please note that coaching demands skills and time. Allowing managers the chance to develop the skills must be incorporated into every company's operating method.
Mentorship should be a topic of discussion and evaluated when managers are promoted or assigned to new roles.
4. Teach Managers How To Coach
One of the best ways to become an excellent coach is to learn how to do it from someone good at it—taking a coaching course such as the OKR Coach Certification Program is a wise idea to start.
OKR Coach Certification Program can help managers become successful coaches. The training program and certification includes practice, offline exercises, and a final exam to test the skills of becoming a team leader.
This training will give the company a competitive advantage as it encourages employee engagement as it focuses on the best possible outcomes, not the most achievable.
One of the OKR Coach Certification program's main purposes is to focus on the interaction and communication between the team members and manager.
As a manager, you will decide to inform, guide, or coach your team, depending on the company's situation and your experience. But if you develop coaching skills, you will allow each member of your team to improve their performance, allowing them to find the best solution.
When you have a reliable team with a problem-solving mentality, you can focus more on achieving and delivering a better outcome for the organization.
Finally, don't give up. Becoming a terrific coach takes time and effort, and it might initially feel unnatural and awkward. But with time, the rewards will prove you it is well worth the effort.
Remember, managers need to change their belief system to be willing to learn and practice mentorship. A terrific coach and manager is always positive and encouraging.