The relationship formed between a manager and an employee is the cornerstone of successful productivity. And most of these relationships are built through 1-on-1 meetings. Research shows that employees who have regular 1-on-1 meetings with their managers feel more engaged at work in comparison to those that don't. As a result, many of those workers end up quitting and the productivity of the company goes into decline.
That being said, even if one-on-one meetings are held, there is no guarantee that they are successful as well. Without creating a good framework for them, you might do more damage than good with such a meeting. You will have wasted time on a meeting that did not particularly have any effect – time that could have easily been resourced for another demanding task.
This is why you need to learn how to efficiently manage a 1-on-1 meeting. This guide will show you why you need these meetings and how to reap the most out of them.
What Is a 1-on-1 Meeting?
A one-on-one meeting is a type of recurring appointment for personal interaction between an employee and a manager. Unlike business meetings that focus on project updates and other official business matters, this one deals with the development and support of an employee. The topics are generally diverse and flexible, most of the time including mentorship, coaching, clarifying expectations, and conflict resolution. Personal matters may be addressed here as well if they are concerned.
Simply put, a personal meeting is meant to address any issues an employee may or may not have. Each meeting is generally sectioned into two parts: the agenda of the employee, and the agenda of the manager. Most of these meetings should not take any longer than 30 minutes – and if, by any chance, the meeting takes longer, you'll have to cut from your time as the manager – and not your employee's.
Why Are 1-On-1 Meetings Important?
We know at this point that a 1-on-1 meeting can boost the engagement of an employee – improving both their performance and retention. That being said, there is a reason (or more of them, to be exact) why these meetings have such an effect.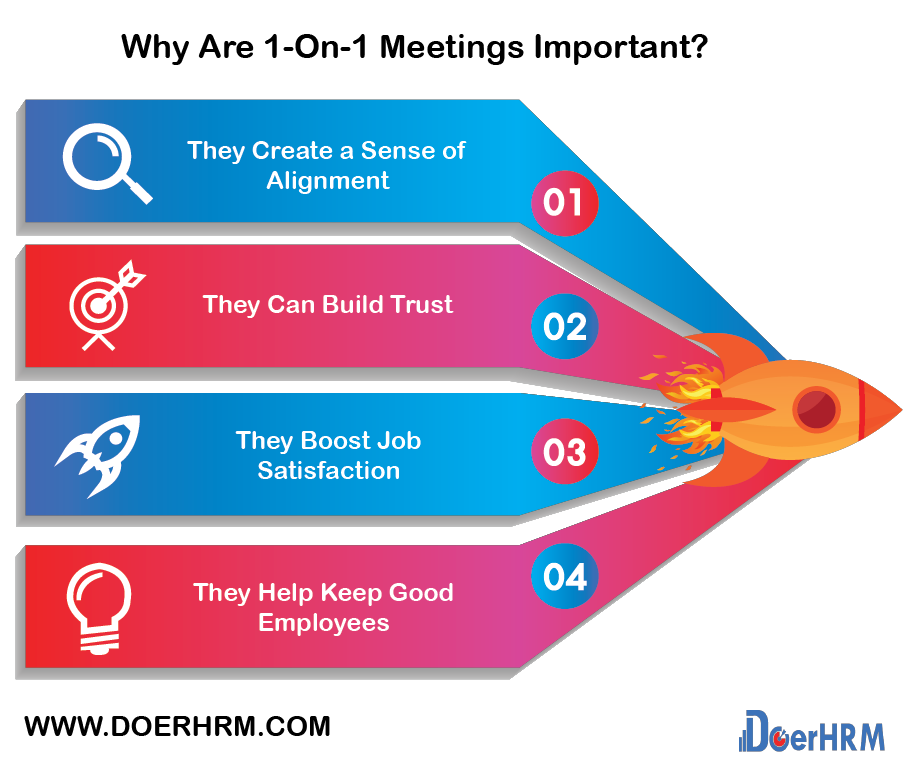 One-on-one meetings allow managers to hear what the employees are working on and what they have accomplished so far. This way, they will be able to provide productive feedback and ensure that their actions are going on the same line with the goals of the company.
When there are no interpersonal connections between the manager and the employee, it might be rather difficult to keep their loyalty and build trust. Because of the barriers that they put up, completely separating their work life and their personal life, they end up losing their best employees. That being said, nicely held one-on-one meetings can lower those barriers, allowing managers to build trust among their employees.
Nowadays, a good salary is not enough to ensure that an employee is satisfied with their job. If you want to keep them, you also need to ensure that they are actually happy with their job – as well as what they are doing there. With a 1-on-1 meeting, you should be able to find out the goals of your employee so that you can help link them to the job that they currently have.
When an employee feels listened to and valued, receiving the support that makes them feel comfortable, they are more likely to remain with you at your company. This way, you will maintain team cohesiveness and you will avoid the costs of having to hire a new employee. Granted, you won't be able to avoid promotions or retirement – but what you want to avoid is people quitting their job so that they can go work for someone else. These meetings will allow you to solve those issues before they manage to reach that point.
How to Properly Run a 1-On-1 Meeting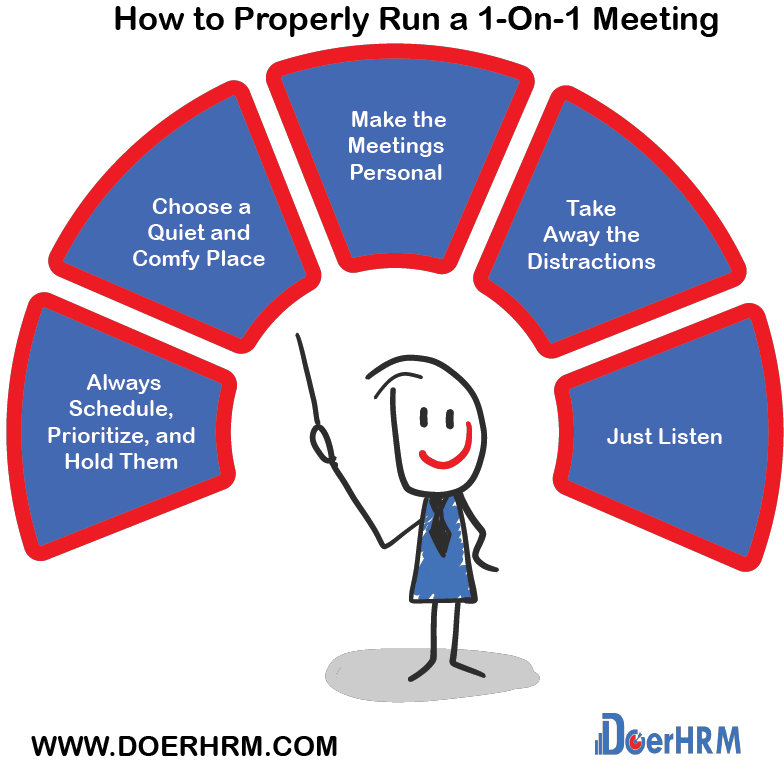 When you do it right, a 1-on-1 meeting can help transform the entire culture of your business. In order to reap the benefits of such a business and not waste anyone's time, here are a few steps and tricks that you might want to follow:
1. Always Schedule, Prioritize, and Hold Them
It might seem like you are entitled to cancel a 1-on-1 meeting simply because a more pressing matter came to light. However, if you do this too often, then you might just end up losing the trust of your employee, simply because they will feel unimportant. This is why you should always schedule the meetings, prioritize, and never cancel them.
If you seriously can't make it on that day, don't cancel – but reschedule instead. Refrain from sending a vague meeting change email on Outlook and go to the employee yourself. Let them know what happened and why you can't meet him. They will see this as a sign of respect rather than you deprioritizing them.
2. Choose a Quiet and Comfy Place
It might feel tempting to simply call them in your office because it's "quiet and comfy," but you shouldn't. It's your office, and no matter how nice it may look, it will still be intimidating. Your office is fine for a business meeting, but for a one-on-one meeting, you might want to choose something like a public room, a walk, or even a coffee shop.
3. Make the Meetings Personal
Every employee is a unique individual. This is why, if you truly wish to connect with them, then you will have to be flexible in your meetings. Every employee may want to talk about different matters – in which case, you may hear about their personal life, their work, their goals, and so on.
Make sure that every piece of information that you get matters because it is a sign that they trust you enough to tell you that. Also, under no circumstances should you break that trust. What happens in the meeting room stays in the meeting room.
4. Take Away the Distractions
This is a precious time when you and your employee are supposed to bond with each other and have some quality conversations. This means that not only should you avoid any interruptions from the staff, but you should also avoid interruptions coming from your phone and laptop.
If it is not truly urgent, do not pause your meetings to answer your texts and phone calls. This might show them that you aren't considering them a priority – and worse, that you don't respect them enough to just dismiss the notifications and let them get to work. Once the meeting starts, make sure that they are your only priority.
5. Just Listen
A 1-on-1 meeting is for the employee – so, while they are there, you have to listen to anything they may have to say. Sometimes, you may have to prompt them with questions such as "what are your thoughts about…," "how can I help you with…," and so on. You need to listen here more than you need to talk.
One-on-one meetings may feel weird for your employees at the beginning, which is why you need to learn how to drive a conversation. However, you will see that once you begin to hold them regularly, you'll be losing fewer and fewer employees over time (provided you make them effective).
To learn how OKRs can help take your team to the next level, enroll in our OKR Mastery course and earn a 35% commission when you invite others to join this course!