Every company is looking to develop highly engaged employees and managers – but sometimes, it can be challenging to navigate the journey to become a top-performing organisation. OKR and KPI performance appraisal are two game-changing corporate performance measurements that can help you upgrade both your talent and your business.
Not sure what OKR or KPI performance appraisal means (or how it applies to your workplace)? 
Read on to learn more!
What is a KPI performance appraisal?
Key performance indicators (KPIs) are measurable numbers that demonstrate how effectively a business is moving toward a larger target end goal. For example, KPIs can include a target total number of sales in a quarter which would lead to a total annual revenue goal. KPI performance appraisal allows for more effective measurement of overall performance with clear targets for each division (and employee).
KPI performance appraisal Examples:
Total revenue growth

Average revenue earned per client sale

Customer acquisition cost

Retention rate of client or customer

Overall customer satisfaction rate

Any other measurable number that's relevant to your business!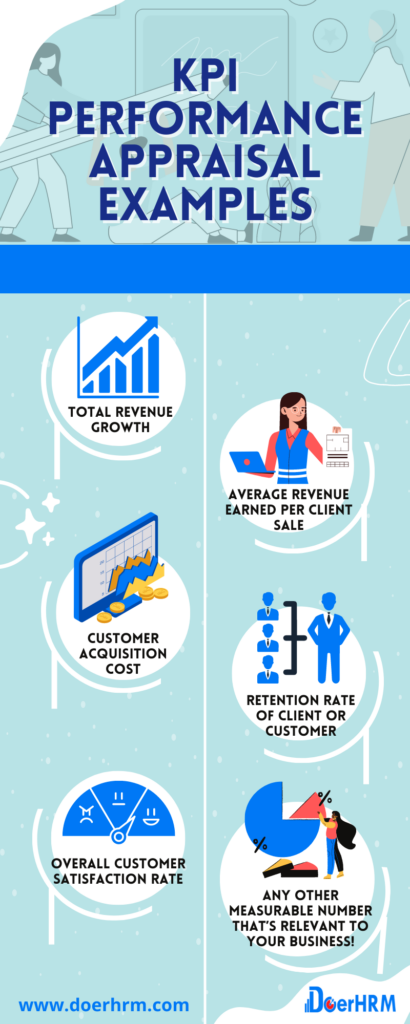 Objectives and key results (OKRs) is a goal-setting framework used by teams to establish a challenging goal with an outline of key result targets to achieve that end goal. Once an objective is set, measurable key results are used along the way to support the overall achievement. So, if the objective is what you want to accomplish in the OKR framework, then the measurable key results are how you will get there.
Objectives and Key Results Examples:
Strengthen corporate culture (objective). Achieve this by rolling out monthly staff surveys, completing two annual team-building days, and reviewing the corporate benefits policy with staff feedback (key results).

Successfully launch a new product (objective). Achieve this by facilitating peer review groups with a satisfaction rate of 90%, engage with a UX/UI design team to optimise product, pitch product to 50 relevant media outlets (key results).
What are 5 benefits of implementing both KPI performance appraisal and OKR metrics?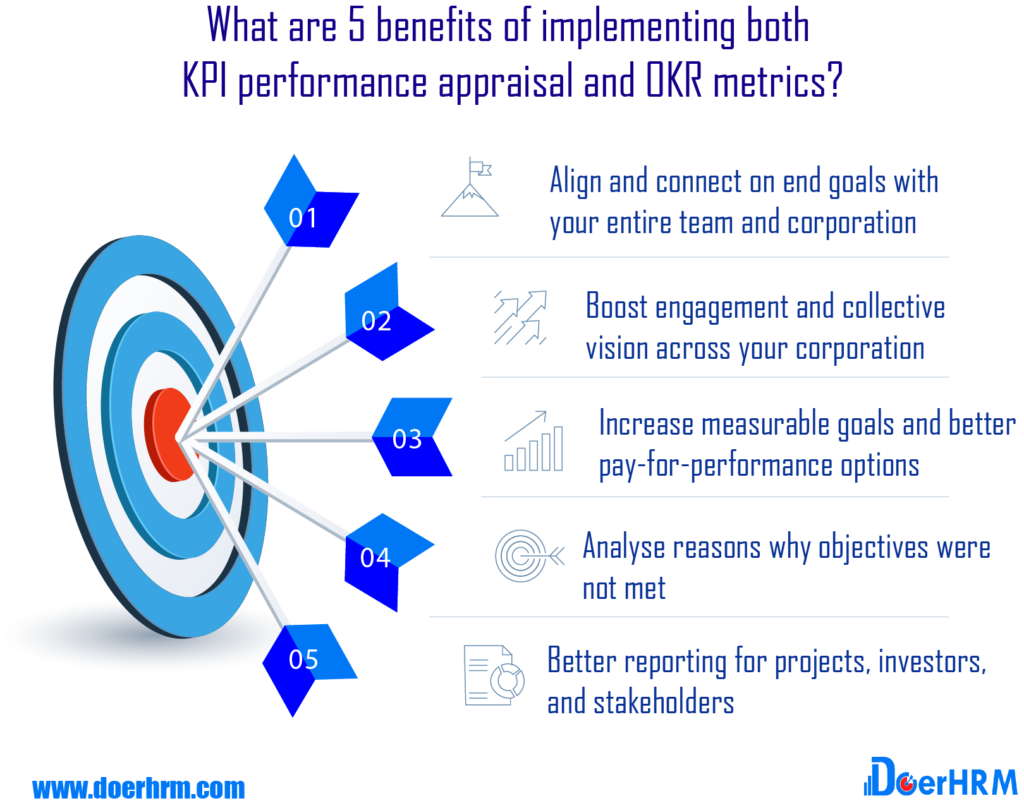 Align and connect on end goals with your entire team and corporation

Boost engagement and collective vision across your corporation 

Increase measurable goals and better pay-for-performance options

Analyse reasons why objectives were not met

Better reporting for projects, investors, and stakeholders
How can I introduce OKR and KPI performance appraisal at my company?
KPIs and OKRs work together to establish a measurable, engaging, and realistic vision for a company. However, setting up and maintaining performance metrics may seem like an overwhelming amount of work. No need to fear, there are some technological solutions specifically designed to make this process easier than you'd think!
Just like any good business plan, KPI performance appraisal and OKR metrics take time and buy-in. But, if you can establish a great framework, these measurements are the secret to empowering and engaging your employees (and to long-term success for your company).