The key performance indicators also known as KPI are used by managers and leaders to track the growth and performance of the team.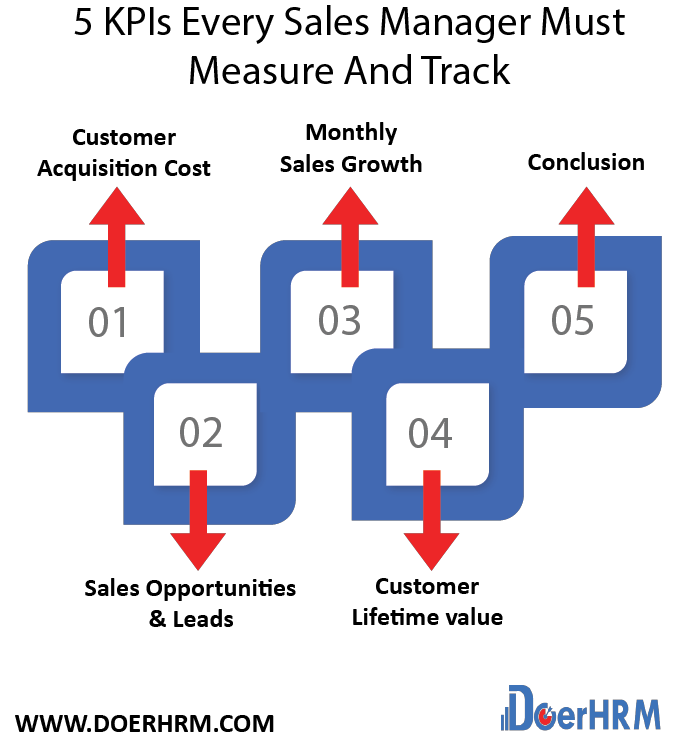 Customer Acquisition Cost
Customer acquisition cost means money spent to acquire a customer through any means which could be money spent on marketing, lead generation strategies, or others.
It is an important metric that every sales manager must measure as it also helps in calculating the net profits made per customer and cost per product or service based on the overall money spent and revenue generated from sales.
This will give the insights and clear data of the extra cost spent on the product and will be helpful in leads and conversion rate of the generated leads.
Sales Opportunities and Leads
The sales opportunities and leads are also an important part as they help in generating sales. Leads are a way to reach to the clients while opportunities are very important in generating high sales either it can be made or used from the existing situation as a strategy.
It gives insightful data to the sales team to know more about the existence of future opportunities and how to grab them.
The advantage of using this KPI is that it helps us to identify the correct type of audience for the product and are a very important part to approach and close deals.
The monthly sales growth is the growth rate indicator of sales for the organization in a month. It plays an important role in knowing the targets achieved or yet to achieve, the profits and growth performance.
It is both used for profits and targets tracking as the profits depend on sales and if the monthly sales are growing, the profits will then automatically increase and finally targets will be achieved.
As profits and growth are the primary goal of every organization. This also provides insightful data for the strategies used and their performance as well.
The customer lifetime value is being ignored by some of the sales managers but it is actually very beneficial to be used as the data for future strategies, profits, and product development. It is because customer lifetime value shows the value that will be generated through a customer forever or for some period.
This indicator helps in understanding the value of the customer, how every customer is profitable, and what profits or value it can bring for a lifetime to the organization.
This also helps in knowing how to spent on a customer according to their worth which may be direct or indirect. This value will also help in measuring the profits and expenses as well as insights for strategies.
It is important for a company to set essential KPIs to track as it will directly reflect the performance and operation health of a company. No matter which KPIs you decide to measure, be sure to analyze it from time to time as the indicator may not be suitable for all stages of your company's growth.
A Practical Guide to OKR & HRM
We have articles, infographics, and reports on on how to best utilize OKR software,  KPI Management, OKR management, and setting your organization up for success!