The dynamics of corporate culture are influenced largely by the organization's history. Corporate culture evolves as its experiences change. Corporate culture change is a process involving many stakeholders within the organization. To successfully change corporate culture, one must find a way to engage everyone within the organization, including employees at all levels, management, and external constituents, such as clients and competitors.
Below are four ways business leaders can maintain a great culture amid the pandemic.
1. Attraction-selection-attrition (ASA)
Culture is maintained through three kinds of organizational and work practices: attraction, selection, and attrition. Attract by offering individuals the inherent freedom and creative challenge of work, selection by sourcing talent through a comprehensive yet personalized process, sometimes co-creating path onto your company; then cut through the noise and keep it relevant by changing the culture mindfully through attrition. Attraction, selection and attrition are three processes that each results in an employee joining or leaving an organization. Each process is different and can have a significant impact on an organization's culture and profitability. 
2. New employee onboarding
Employees new to the organization navigate their way through the culture and way of doing business and learn the rules of the game. In these new employees onboarding, organizational values, norms and behavioural patterns are transmitted to the newcomer and his/her micro managerial role in the organization. Through this process, organizational culture and the average worker are known and understood by other employees. This understanding and confidence in turn translate into more effective new employees who perform better and have higher job satisfaction, stronger organizational commitment, and longer tenure within the company.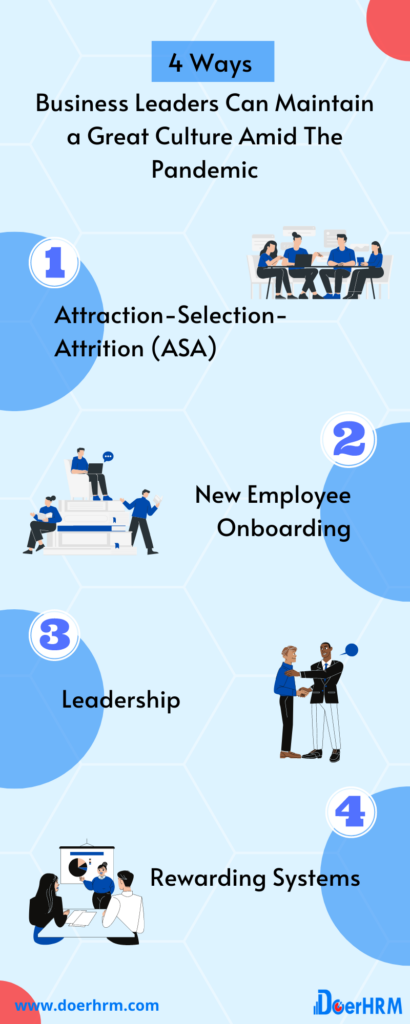 Leaders must be proactive in their approach to a culture where they are able to drive meaningful change and influence their organization's culture. In order to be a good leader, it is important for leaders to understand how their behaviour creates culture and how their influence will lead to significant culture change. There is a direct correspondence between a leader's style and an organization's culture. For example, when leaders motivate employees through inspiration, corporate culture tends to be more supportive and people-oriented. When leaders motivate by making rewards contingent on performance, the corporate culture tends to be more performance-oriented and competitive. Through their day-to-day actions, leaders shape and maintain an organization's culture.
Finally, the company culture is shaped by the type of reward systems that are used in that organization, and the kinds of behaviours and outcomes that it chooses to reward and punish. One relevant aspect of the reward system is whether the organization rewards and punishes based on the type of behaviours and outcomes it does or does not reward and punish. Reward systems that offer employees a wide variety of motivational opportunities are likely to strengthen employees' commitment and their sense of engagement in the company. One relevant element of the reward system is whether the organization rewards behaviours or results. 
Maintaining organisational culture in 2022 may appear to be a secondary priority in the face of conflicting goals and numerous challenges. Leaders must start taking efforts today to improve employee productivity and well-being that may also help lay the groundwork for organisational success.